About

Alaska's Health Aide Model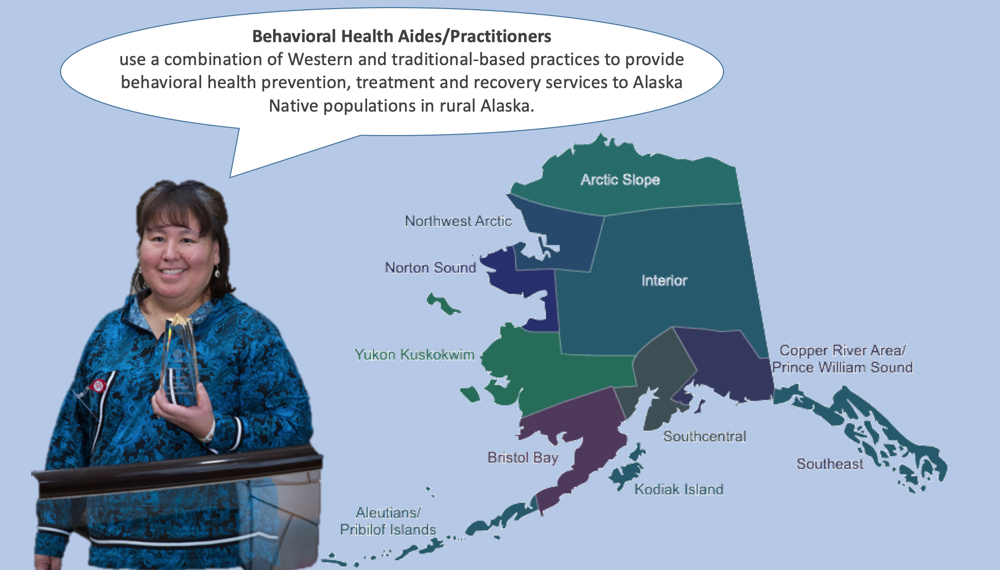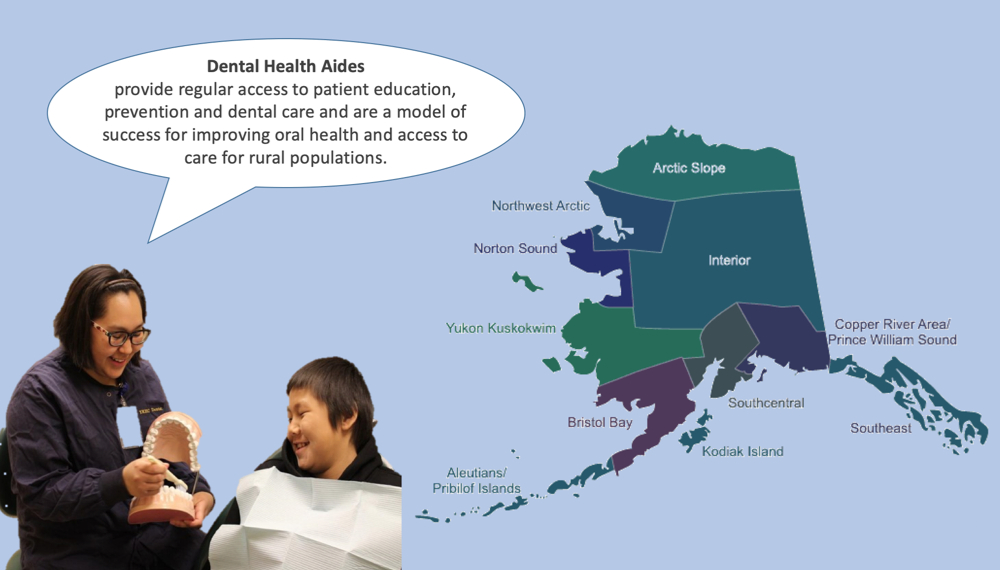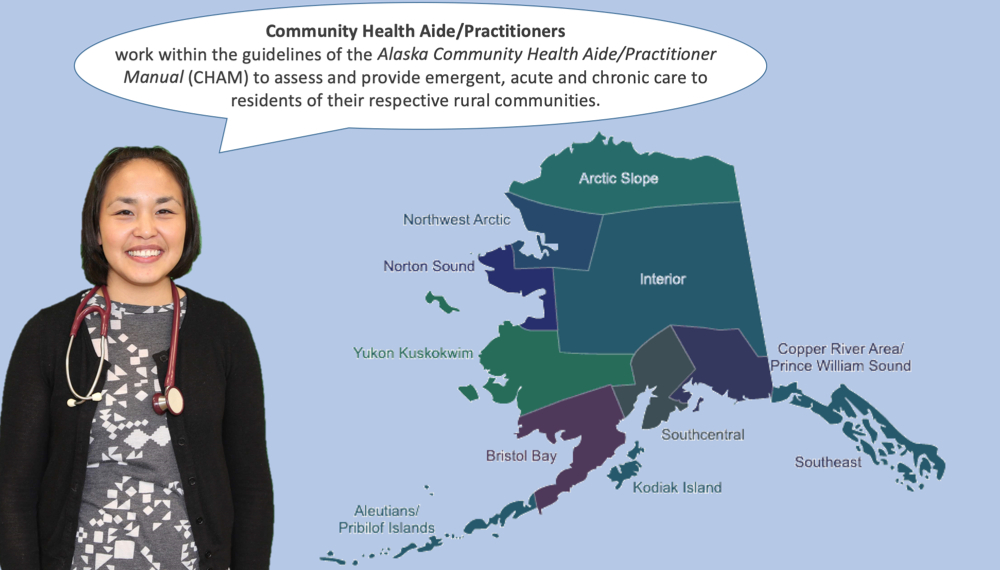 Large State/Small Population
Alaska is the least densely populated state in the nation on a land mass that covers one-fifth the area of the United States. Alaska Natives and American Indians (AN/AI) make up 24% of the state's population with more than 1/3 of AN/AIs living in rural and remote locations throughout the state. Alaska is a land of extremes in weather and geography from maritime mountain ranges to vast expanses of tundra and impassable river systems. Eighty percent of the state does not have a road system, making residents dependent on air travel. Weather conditions for air travel can be variable and dangerous, so when hospital care is needed, it may not be accessible. These challenges forced rural Alaskans, especially, to find ways to bring care closer to home. This is the story of the development of the Alaska Tribal Health Systems (ATHS) Health Aide model.
Community Health Aide Program
"Providing quality health services to rural, remote, and culturally distinct populations is a difficult task. Over the years, Alaskans have made substantial progress in making needed health and human services more available to rural Alaskans. Alaska's Community Health Aides are a major ingredient in this success. Today, Community Health Aides are the backbone of primary rural health care in our state. The evolution of the Community Health Aide program began over 40 years ago with the Sanitation Aide program. During the tuberculosis epidemic in Alaska, trained local villagers helped insure that rural Alaska Native people in need of chemotherapy received their medications regularly. In the mid-1960s, some small-scale training programs for village health aides began to emerge. Finally in 1968, the Alaska Area Native Health Service initiated formal Community Health Aide training efforts." (from the Forward of Alaska's Health Aide Program, 1998)
CHA/Ps received formal federal recognition and congressional funding in 1968 and today, they function as part of a regional team to assess and provide emergent, acute, and chronic medical care in remote Alaskan communities. Bringing care closer to home is not just a benefit to the psychological well-being of the patient, it is also more efficient and cost-effective. The success of the Community Health Aide model formed the beginnings of a model of care that has expanded to other areas of healthcare in the Alaska Tribal Health System including the Dental Health Aide Program and the Behavioral Health Aide Program. The model is now being implemented in other parts of the country as well. The use of the term "community health aide" is often used in a generic sense to refer to all health aide programs.
Dental Health Aide Program
With the passage of the Indian Self-Determination and Education Assistance Act in 1975 and then the Indian Health Care Improvement Act the following year, Alaska tribes assumed the responsibility for dental and health care for the Alaska Native people. The 1999 Oral Health Survey of Alaska Native (AN) and American Indian (AI) people revealed staggering health disparities among AN/AI populations with 68% of people age 2-44 experiencing untreated decay. AN/AI elders also faced staggering amounts of untreated decay at 61%.
The search for a more effective, evidenced-based oral health care delivery system required courage and innovation. A global search of evidence-based practices led the leaders of the Alaska Tribal Health System to develop four provider types. These include the Primary Dental Health Aide (PDHA), the Expanded Function Dental Health Aide (EFDHA), the Dental Health Aide Hygienist (DHAH) and the Dental Health Aide Therapist (DHAT). The Dental Health Aide Therapist was based on the New Zealand dental nurse program that began in 1920. The dental nurse was renamed a dental therapist and practices in over 50 different countries throughout the world. It would be a new provider type in the U.S. In 2004, the first ANTHC sponsored Dental Health Aide Therapists completed training in New Zealand and returned to Alaska to become the first Dental Health Aide Therapist in the U.S. As the provider with the largest scope of practice, DHATs work under the supervision of a licensed dentist to provide preventative care, basic restorative care, and uncomplicated extractions.
The DHAT program demonstrates that when tribes are provided with the freedom to meet the needs of their people, they are able to meet the challenge to increase access to care while maintaining the quality of care. The Research Triangle Institute evaluation completed in 2010 found that DHATs delivered quality care by providing safe, competent, and appropriate dental services. A 2018 study by Dr. Donald Chi found that the more time a DHAT spent in a community the better the oral health outcomes. Specifically, both adults and children require fewer dental extractions and the community receives more preventative dental care.
Behavioral Health Aide Program
In 1988 the Anchorage Daily News published a Pulitzer Prize winning series entitled "A People in Peril" that documented the despair of Alaska Native peoples with stories of suicide, alcoholism, and community disintegration. Statistics for that period indicated that suicide occurred at a rate of 257 per 100,000 for males age 20-24. These jarring real life stories of the suffering of Alaska Native peoples caused a ground swell of governmental response in the state of Alaska and in 2003, ANTHC received congressional funding for the "Counselor in Every Village Program". In that same year, the Advisory Board on Alcoholism and Drug Abuse estimated 42,000 adults in Alaska needed treatment for a substance use disorder. Of the Alaskan adults needing treatment only 3,586 received treatment. It is common for people with mental health conditions or substance use addictions to be reluctant to seek help because of the belief that behavioral health issues are the result of one's own moral weakness or personal failings. The behavioral health client experiences greater barriers to treatment because of perceived societal judgement of their condition and their own personal shame, hopelessness, and self-doubt about their ability to overcome their illness or addiction. On a national basis, behavioral health conditions such as depression, anxiety and addiction are very common (one in four Americans experience mental health or substance use disorders), but because of the stigma and shame associated with behavioral health conditions, 80% of patients seek help in hospital emergency departments (ED) rather than with behavioral health providers. Due to a lack of time and behavioral health training, medical personnel often do not address behavioral health issues; it is estimated that 60-70% of those who seek help in a hospital ED leave without receiving treatment or a referral for their behavioral health condition.
The Alaska Native Injury Atlas 3rd Edition reported the leading causes of hospitalization of Alaska Native/American Indian people. "Behavioral health" was reported as the second leading cause of hospitalization after "pregnancy & childbirth". This data appears to show that individuals with behavioral health conditions come to the attention of the health care system only after their situation reaches crisis proportions. The Behavioral Health Aide (BHA) workforce increases access to care for people who struggle with behavioral health conditions but do not feel safe seeking help for these conditions. BHAs are community members who understand the cultural and historical context of their clients and strive to reduce the stigma associated with seeking help. They are part of an established service and referral structure within their regional Tribal Health Organization (THO) and are trained to provide a wide array of services from prevention and early intervention to treatment and aftercare. As autonomous entities, THOs choose which behavioral health services they will provide based on the needs of their region.
Community Health Aide Program Certification Board
The Community Health Aide Program Certification Board (CHAPCB) is federally authorized by Alaska Area Native Health Service and administered by Alaska Native Tribal Health Consortium. The CHAPCB was created in 1998 by the federal government and charged with formalizing the process for maintaining community health aides/practitioners, dental health aides and behavioral health aides/practitioners training and practice standards and policies. The CHAPCB:
Certifies CHA/P Training Centers.
Certifies individual Community Health Aides, Community Health Practitioners, and Dental Health Aides at all levels of training.
Approves the Alaska Community Health Aide/Practitioner Manual revision and Behavioral Health Aide Manual, revision.
The "Community Health Aide Program Certification Board Standards and Procedures" serve as the guiding program and certification document.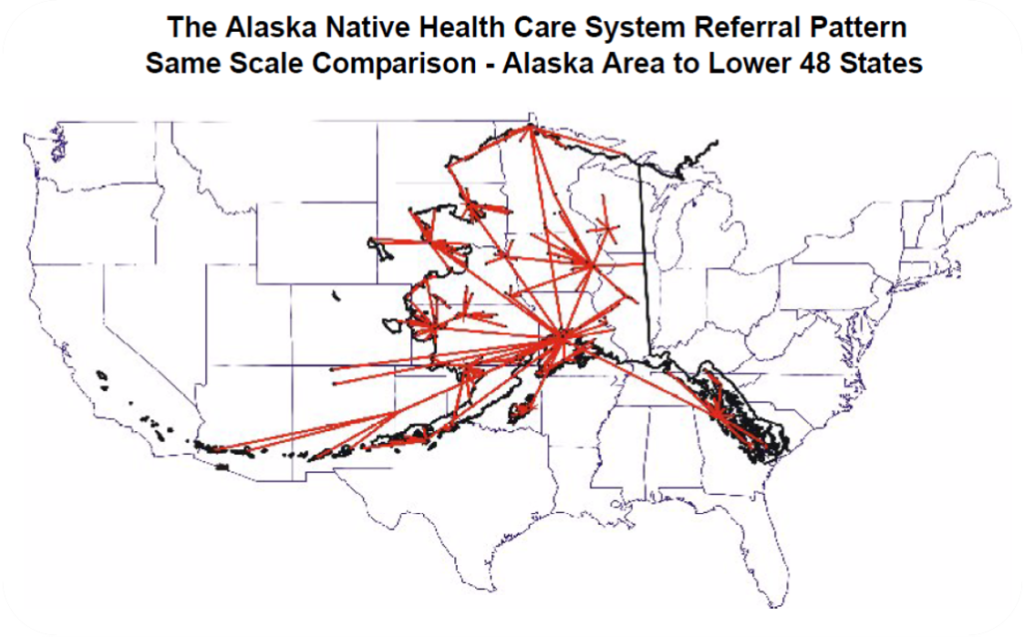 A "Hub & Spoke" Referral Pattern
The Alaska Tribal Health System (ATHS) strives to increase access to care by making services available in local communities and Community Health Aides, Dental Health Aides and Behavioral Health Aides constitute the frontline of health care in these remote communities. The ATHS is made up of approximately 37 tribes or Tribal Health Organizations with signed agreements to manage a health care facility under the Alaska Area Native Health Service of Indian Health Services (IHS). The "spokes" of the wheel radiate out in a specified region to individual communities and sub-regional clinics. The center of the referral pattern is the region's largest hub community which contains hospital services and mid-level practitioners and physicians. The aim of the "hub & spoke" referral pattern is to keep care close to home. If after being treated at the community level, symptom acuity remains high, patients are referred to a higher level of care outside the community. The highest level of care within the ATHS is the Alaska Native Medical Center (ANMC) in Anchorage located in southcentral Alaska.