Integrated Health Aide Forum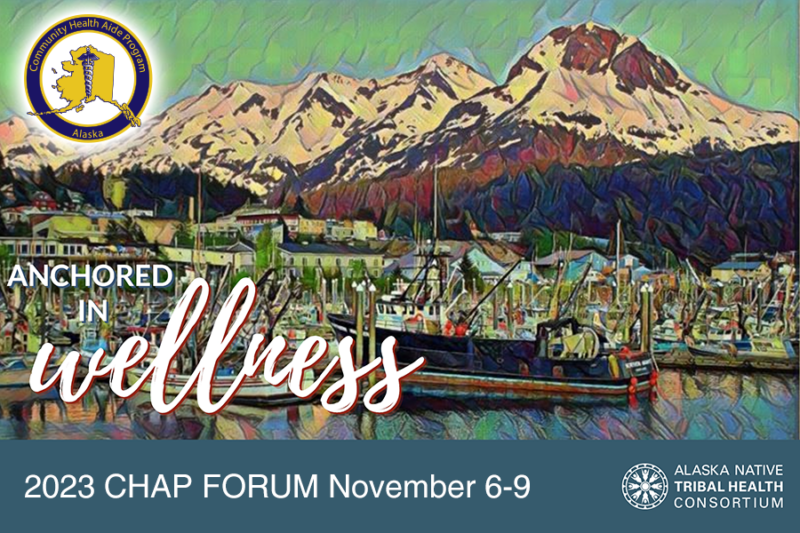 Monday – Thursday beginning at 8:00 am daily
The annual CHAP Forum offers sessions that are interactive, creative, dynamic, present topics often encountered by multiple disciplines, feature best practices in integrated healthcare, and yield an increase in skills and resources relevant to CHA/P's scope of practice. Each session will be 60-90 minutes in length, and participants may earn up to 24 continuing education credits. There will be daily coffee and tea service and a buffet lunch along with the Dental Health Aide and Behavioral Health Aide Programs.
The Integrated Health Aide Awards Ceremony is on Wednesday, November 8. All three disciplines will be in attendance: Community Health Aide, Dental Health Aide and Behavioral Health Aide Programs.
Registration Information:
The registration fee is $450 per person. Organizations are responsible for making all travel arrangements. The Captain Cook Hotel is offering a room rate of $173.60/night (room and taxes) while space is available. Please call 1-800-843-1950 and mention Alaska Native Tribal Health Consortium to get your room reserved with this room rate.
Register Here:
https://www.regpack.com/reg/healthaideforumchap
The registration site works best in Google Chrome, Firefox, and Safari browsers.